The Macro Problem



Season

1

Episode

3

Length

4:33

Original Air Date

September 7, 2007

Previous Episode

Next Episode
"
I didn't plan on social activities this month.
"

–Vork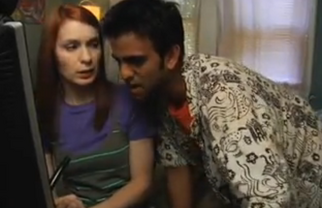 After
Codex
announces to her guild that
Zaboo
is in her house,
Tink
takes it the wrong way and thinks that they are getting it on. While Codex is trying to explain otherwise, Zaboo interrupts and confirms Tink's thoughts (however untrue they are).
It is then that Bladezz announces that he was banned form The Game because of spamming and Vork lectures him for ruining the Knights of Good's reputation for standing for good and all things related to good. Bladezz then logs off and the guild is left confused. Codex suggests that the guild meet in person to discuss Bladezz's behavioral problems although the real reason that she proposed this idea was to get rid of Zaboo. At first most of the guild is very reluctant about this idea but with some persuading (50 in game gold), they finally agree to meet at Cheesy Beards.
Ad blocker interference detected!
Wikia is a free-to-use site that makes money from advertising. We have a modified experience for viewers using ad blockers

Wikia is not accessible if you've made further modifications. Remove the custom ad blocker rule(s) and the page will load as expected.