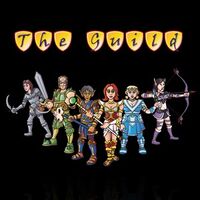 The Guild is an American comedy web series created by, written by and starring Felicia Day. It is about a group of adults in an online "guild" called the Knights of Good, who spend countless hours playing a MMORPG video game, which they only refer to as "The Game". The Guild stars Codex (Felicia Day), a video game addict and former child prodigy, who attempts to lead a normal life after meeting one of her Guild members, Zaboo (Sandeep Parikh) shows up on her doorstep. The webisodes of The Guild are available on Hulu, iTunes, DVD, Netflix, YouTube, Xbox Marketplace, Zune Marketplace, and MSN Video. The was recently renewed for a sixth season.
Characters
Edit
Main Characters
Edit
Minor Characters
Edit
Tara Caso as Dena
Fernando Chien as Wade Wei
Michele Boyd as Riley
Frank Ashmore as Ollie
Tymberlee Hill as Jeanette
Simon Hellberg as Kevinator
Hayley Holmes as Rachel
Ad blocker interference detected!
Wikia is a free-to-use site that makes money from advertising. We have a modified experience for viewers using ad blockers

Wikia is not accessible if you've made further modifications. Remove the custom ad blocker rule(s) and the page will load as expected.