Rather Be Raiding



Season

1

Episode

5

Length

6:54

Original Air Date

December 1, 2007

Previous Episode

Next Episode
Sitting around a table at
Cheesy Beards
, they start off by telling each other a little more about themselves. Everyone in
the guild
thinks that
Zaboo
and
Codex
are "together" , including Zaboo, who is explaining their in-game wedding to
Clara
. Codex sends Zaboo on a "quest" to get her sweater so she can have time to explain to the rest of the guild her situation. The guild is still not convinced by the time Zaboo comes back with the sweater.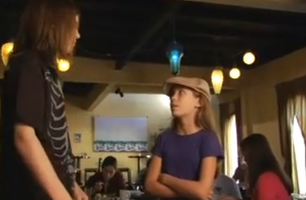 Once they start discussing Bladezz's position in the guild, he arrives at the table. They try to defend themselves and say that they weren't talking about him or kicking him out. He tells them that they better not kick him out because last week, Vork transferred the entire guild bank which includes all the guild gold and guild equipment to Bladezz's other character. Dina, Bladezz's sister, comes in and tells him to get in the car cause his time was up.
Vork explains himself by saying that he was trying to strengthen the guild by giving the bank to the weakest link.
Ad blocker interference detected!
Wikia is a free-to-use site that makes money from advertising. We have a modified experience for viewers using ad blockers

Wikia is not accessible if you've made further modifications. Remove the custom ad blocker rule(s) and the page will load as expected.